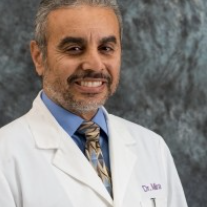 Dr. Mohamed Mira
Veterinarian
I'm Dr. Mohamed Mira, I'm the owner and veterinarian at Howard County Animal Hospital. We are a small, family focused practice serving Howard County and the surrounding area since the year 2000. Our focus on family is evident throughout the practice, my children and wife have worked here, and our clients grow with us too, returning over the years as their children grow and build their own families.

I was inspired to become a veterinarian at a very young age. I grew up in Egypt, and at 5 or 6 years old my older brother and I found a stray dog with a broken leg, he wasn't walking on the leg, and obviously uncomfortable. Being resourceful problem solvers, we went to the local home hardware store and bought some plaster, and used some cotton and made a cast for the dog's leg. Two months later when we removed the cast, the dog was well healed and I was hooked on this idea that I could solve problems and help animals. This experience inspired me to attend Veterinary school in Cairo from which I graduated. Then, upon moving to the United States, I obtained my DVM from Purdue University in 1993.

I continue to enjoy solving problems and relieving animal's suffering. Like any science based professional, I love a good detective challenge. Following the clues and figuring out the issue is highly satisfying. Routine surgeries are also a highlight for me, because I can see the positive results of my work immediately.

When I'm not at the hospital I enjoy travel. My travel "bucket list" includes Austria, Germany and Scandinavia; all places where I can indulge in my love of photography.

At home I have my three children, wife and two kittens, Lulu and Buttercup who are especially loved (and named by) my youngest daughter. As with many families, pets are an important part of family life. I believe that pets can help teach our children compassion, empathy and responsibility. Pets can improve our quality of life, and the work I do helps ensure their quality of life too.